Streets of Rage – Melbourne Hot Sauce
Heat Level: Hot
Produced by: Melbourne Hot Sauce – Melbourne, VIC
100% Australian made – MHS & 8 Bit Burgers have teamed up to create the ultimate Hot Sauce Burger partnership.
Gluten & Dairy Free. Vegan Friendly
Size: 150ml
Out of stock
Product Description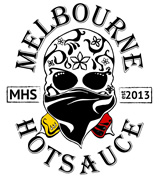 Heat Level: Hot
MHS & 8 Bit Burgers have teamed up to create the ultimate Hot Sauce Burger partnership.
Perfect for hot sauce lovers, burger fans & retro gamers alike.
Ingredients: Habanero, Vinegar, Chipotle, Ghost Chilli, Onion, Orange, Garlic, Smoked Paprika, Sugar, Salt, Pepper, Cardamon.
Gluten & dairy free. Vegan friendly.
Hand crafted with all natural ingredients in Melbourne, Australia.
We only use high quality natural ingredients with no added preservatives, additives, fillers, extracts or thickeners.
150ml bottle.