Sting Like a Bee – Vindaloo Hot Sauce – The Chilli Effect
£9.75
Heat Level: Very Hot
Produced by: The Chilli Effect – Sydney, NSW
Sting Like a Bee packs a serious punch as one of the hottest chilli sauces in Australia – your very own instant super hot VINDALOO in a bottle!!!
Gluten Free
Size: 250ml
Out of stock
Description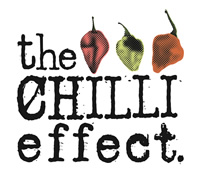 Heat Level: Very Hot
Sting Like a Bee packs a serious punch as one of the hottest chilli sauces in Australia.
With multi-award winning flavour and solid heat, this sauce is seriously addictive.
So what's the flavour?
Sting Like a Bee opens with a delicious blend of Indian spices and Australian honey, but don't be fooled, the Trinidad Scorpion heat is coming…and coming in hard!
"This stuff is your very own instant super hot VINDALOO in a bottle!!!" – Mark
Try Sting Like a Bee with Chicken, hot wings, fish and veggies or on your corn flakes if you're harboring a serious chilli addiction.
What's the Chilli? 27.5% Trinidad Scorpion and Habanero this one is extremely hot!
Ingredients: Water, Habanero & Trinidad Scorpion (27.5%), Vinegar, Honey, Apple, Carrot, Onion, Yellow Mustard Seeds, Garlic, Salt, Chilli Powder, Caraway, Fenugreek, Cumin, Coriander, Pepper, Xanthan (415).
Served in a 250ml bottle.
GLUTEN FREE
Awards won by Sting Like a Bee:
World Hot Sauce Awards (USA) – Silver Medal – Indian Category
Royal Hobart Fine Food Awards (TAS) – Silver Medal
Mr Chilli Awards (AUS) – Gold Medal