Spicy Sanchez – Melbourne Hot Sauce
£9.75
Heat Level: Very Hot
Produced by: Melbourne Hot Sauce – Melbourne, VIC
100% Australian made – Featuring a mouth blistering mix of some of the worlds hottest chillies, this bad boy is not to be taken lightly!!
Gluten & Dairy Free. Vegan Friendly
Size: 150ml
Out of stock
Description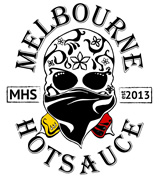 Heat Level: Very Hot
MHS x #Burgerlove Ltd edition collaboration hot sauce.
Featuring a mouth blistering mix of some of the worlds hottest chillies, this bad boy is not to be taken lightly!!
Made with 100% all natural Australian ingredients.
Ingredients: Carolina Reaper, Trinidad Scorpion, Bhut Jolokia, Red Habanero, Orange Habanero, Chipotle, White Vinegar, Lemon, Salt, Sugar.
Gluten & dairy free. Vegan friendly.
Hand crafted with all natural ingredients in Melbourne, Australia.
We only use high quality natural ingredients with no added preservatives, additives, fillers, extracts or thickeners.
150ml bottle.