Smokin Mango Chilli Sauce – Byron Bay Chilli Co. (Best Before 14 Sep 2022)
Heat Level: Medium/Hot
Produced by: Byron Bay Chilli Co. – NSW
Smokin' Mango with Chipotles. For those who require zest in their tomato sauce. With jalapeño, cayenne & chipotle chillies.
Gluten Free.
Size: 250ml
Description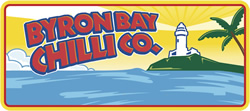 Heat Level: Medium/Hot
Smokin' Mango with Chipotles. A mango twang with a tomato backup, three kinds of chillies, jalapeño, cayenne, and chipotle (smoked jalapeno).
This sauce will treat you to a new level of BBQ sophistication. For those who require zest in their tomato sauce.
Ingredients: Mango (26%), Tomato, Water, Jalapeño Chilli (10%), Cider Vinegar, Onion, Golden Syrup, Brown Sugar, Chipotle Chilli (3%), Cayenne Chilli (2%), Garlic, Spices, Salt.
Gluten free.
250ml bottle.