Scorpion Strike – Stupidly Hot BBQ Sauce – The Chilli Factory
£11.45
Heat Level: Extreme (15/10)
Produced by: The Chilli Factory – Morisset, NSW
100% Australian made with Trinidad Scorpion Chillies (58%). Perfect with BBQ meats, stir-fries, Mexican, Italian & Asian dishes – to add some Lava to your food!
Gluten Free
Size: 150ml
Out of stock
Description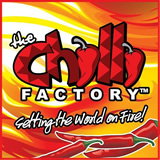 Heat Level: Extreme (15/10)
WARNING – Before buying this sauce please read our Hot Sauce Disclaimer
Ingredients: World's Hottest chilli! (From 01 March 2011 until 20th of November 2013) Trinidad Scorpion Chilli (58%), White Vinegar, Worcestershire sauce (Soya, Salt, citric acid to regulate acidity, Glucose, Vegetable Gum, Spices, Natural Colour).
Warning: This product may contain traces of nuts. Contains: Soybeans
Worcestershire sauce does NOT contain gluten, NO added MSG, NO meat or Fish. Is mainly derived from Maize (corn) THIS product is: 100% gluten free 100% animal free.
Serving suggestion:
Use sparingly in marinades, any stir-fries
Steaks: brush a tiny bit on your steak and put it on the BBQ!
Cheese/ham with avocado sandwiches. Pepper and salt
Meatballs
Mexican, Italian and Asian Dishes
Basically….to add some Lava to your food!
Check the video to see how it's made…