Satan's Spit – Extreme Heat Spray – The Chilli Factory
£11.45
Heat Level: Extreme (18/10)
Produced by: The Chilli Factory – Morisset, NSW
Ingredients: Alcohol, Chilli Extract, (Warning: may contain traces of nuts).
Warning flammable! Handle with Caution!
Keep Away from Heat & Naked Flame!
Keep out of reach of Children & Idiots!
Food Additive, Tincture
Size: 30ml, Approx 400 servings per bottle
Out of stock
Description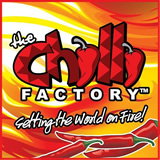 Heat Level: Extreme (18/10)
WARNING – Before buying this product please read our Hot Sauce Disclaimer
Ingredients: Alcohol, Chilli Extract, (Warning: may contain traces of nuts).
Warning flammable! Handle with Caution!
Keep Away from Heat & Naked Flame!
Keep out of reach of Children & Idiots!
Usage
Use in small doses!
Spray onto food after you've cooked it
or use it in stir fries of you like….
however as with any chilli, when cooking it will create fumes that might make you sneeze, cough and give you teary eyes!