R.C Burner – Australian Extreme Chilli Condiments
Heat Level: Medium
Produced by: Australian Extreme Chilli Condiments – Manning Valley, NSW
100% Australian made with locally sourced ingredients from local farmers in the Manning/Macleay Valley & their own home grown chillies.
Gluten Free & Vegan Friendly
Size: 150ml
Out of stock
Product Description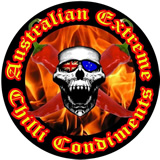 Heat Level: Medium
"A life of spice… is the spice of life" – this family recipe dates back to 1895.
Made with locally sourced ingredients from local farmers in the Manning/Macleay Valley & their own home grown chillies.
R.C BURNER is fantastic on bacon & eggs, poached eggs, on top of oysters, a splash in your soup, casseroles, Shepherds. Marinate a juicy steak overnight & char grill.
Ingredients: Brown Vinegar, Plum Jam, Molasses, Habenero Chilli, Garlic, Allspice, Cloves, Salt, Cayenne Pepper.
Gluten Free & Vegan Friendly
150ml bottle
Awards: 
"Best Medium Heat Worcester Sauce" – Mr Chilli Awards 2016