Pineapple Express – Dr Paul's Hot Sauce
£9.75
Heat Level: Very Hot
Produced by: Dr Paul's Hot Sauce – Perth, WA
A delicious blend of pineapple, raisins, cinnamon, cumin, turmeric and the infamous ghost chilli
Gluten Free & Vegan Friendly
Size: 150ml
Out of stock
Description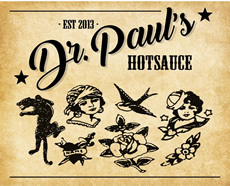 Heat Level: Very Hot
Pineapple Express is a delicious blend of pineapple, raisins, cinnamon, cumin, turmeric and the infamous ghost chilli (bhut jolokia). If you can handle the heat, you will love the flavour of this sauce.
Ingredients: Pineapple, Onion, Carrot, Apple Cider Vinegar, Ghost Chilli, Sugar, Lime Juice, Salt, Garlic, Ginger, Raisins, Cumin, Turmeric, Cinnamon.
Great with pork; chicken; fish and absolutely amazing drizzled over a pizza or through a nice hearty soup.
Gluten Free & Vegan Friendly.
150ml bottle.