Outback Storm – Hot Chilli Tomato & Basil Relish – The Chilli Factory
Heat Level: Hot (8/10)
Produced by: The Chilli Factory – Morisset, NSW
Multi-Award Winning Chilli Tomato & Basil Relish. 100% Australian made with Tomato, Cayenne Chillies & Habanero Chillies. Great condiment for any barbeque. Dips, tacos, pasta and pizza.
Gluten Free
Size: 190g
Out of stock
Product Description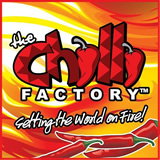 Heat Level: Hot (8/10)
Ingredients: Tomato (54%), Water, Balsamic Vinegar, Cayenne & Habanero Chilli (7%), Fresh Basil (4%), Onion, Cornflour, Salt, Garlic Herbs & Spices.
Recommended Usage
Have this with any meats; as a condiment on your plate. Really nice with steak
Nice as a dip with Sour cream or fresh natural yoghurt
Mexican food, Italian food, rice dishes or with your pastas
To top up your pizza
Fresh basil in it and Roma tomatoes
Superb with your spaghetti bolognaise!
Awards won by Outback Storm
3rd Prize Bronze Award: Sydney Royal Fine Food Show – September 2005
1st Prize Best Chutney Relish: Jindivick Hot sauce & Fiery Foods Festival – February 2005
1st Prize Best Chutney Relish: Jindivick Hot sauce & Fiery Foods Festival – February 2003
1st Prize Best Relish: Australian Fiery Food Awards – August 2002
1st Prize Best Chutney: Jindivick Hot sauce & Fiery Foods Festival – February 2002