Notorious H.A.B – 13 Angry Scorpions
£7.95
Heat Level: Hot
Produced by: 13 Angry Scorpions, Brisbane, QLD
Aged Red Habanero Hot Sauce – Piquante & Fruity
Handcrafted in Australia from 100% natural ingredients
Gluten Free, Dairy Free & Vegan Friendly
Size: 150ml
7 in stock
Description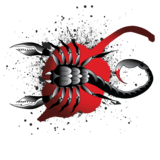 Heat Level: Hot
The Notorious H . A . B – Aged Red Habanero Hot Sauce – Piquante & Fruity
13 Angry Scorpions' red habaneros have been aged to perfection for up to 18 months, then blended with ginger, sea salt & just enough mango as not to takeover the flavour profile, but adding a nice, subtle fruitiness. This has produced a beautifully balanced, mouth warming, medium hot, piquant hot sauce with a freshness & zest that goes well with absolutely everything.
Ingredients: Aged Red Habanero Peppers, Mango, Ginger, Sea Salt, Vinegar.
Suggested Food Pairings
The Notorious H . A . B is amazing with fried chicken, Mexican cuisine, burgers and bacon and eggs.
Handcrafted in Australia from 100% natural ingredients.