Hop Smoked Jalapeño – Melbourne Hot Sauce
£6.45
Heat Level: Mild
Produced by: Melbourne Hot Sauce – Melbourne, VIC
100% Australian made – 8 months of R&D have resulted in a perfectly balanced Beer based Red Jalapeño Hot Sauce with a unique complex smoky flavour.
Multi-Award Winning
Vegan Friendly
Size: 150ml
Out of stock
Description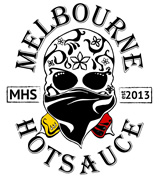 Heat Level: Mild
8 months of R&D have resulted in a perfectly balanced Beer based Red Jalapeño Hot Sauce.
The Jalapeño are smoked for 6 hours over Galaxy Hops & locally sourced Cherry wood producing a unique complex smoky flavour.
The addition of extra pale ale from Melbourne based Wolf of the Willows adds a whole new layer of depth which is balanced out by Tasmanian Cider Vinegar & Victorian grown Tomato & Rosemary.
With help from the team at St Kilda Burger Bar this sauce has been specifically designed to complement your favourite burger. Great addition for all meats and vegetables that are in need of a unique smoky flavour.
Perfect as a table sauce or addition to marinades, dressings, sauces & emulsions.
Ingredients: Jalapeño (56%) smoked over galaxy hops & cherry wood, Cider Vinegar, XPA ale (contains gluten), Tomato, Lemon, Sugar, Salt, Rosemary.
Vegan friendly.
Hand crafted with all natural ingredients in Melbourne, Australia.
We only use high quality natural ingredients with no added preservatives, additives, fillers, extracts or thickeners
150ml bottle.
Awards:
1st place 2017 Australian Food Awards
1st place 2016 Australia & NZ Mr Chilli Awards