Hellfire – 13 Angry Scorpions
£6.95
Heat Level: Medium
Produced by: 13 Angry Scorpions, Brisbane, QLD
AGED MORUGA SCORPION & RED HABANERO – SWEET HOT SAUCE
Award Winning & Handcrafted in Australia from 100% natural ingredients
Gluten Free, Dairy Free & Vegan Friendly
Size: 150ml
Out of stock
Description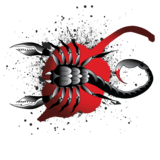 Heat Level: Medium
AGED MORUGA SCORPION & RED HABANERO – SWEET HOT SAUCE
13 Angry Scorpions combined Australian grown Red Habanero and Red Moruga Scorpion Peppers with molasses and distilled vinegar to create quite a mild heat but very flavoursome sauce. Hellfire is an intentionally simplistic sauce with no savoury component, forming an extremely versatile and morish, sweet sauce that is  just as good on a dessert as it is on bacon and eggs.
Ingredients: Habanero & Moruga Scorpion Peppers, Vinegar, Sugar, Molasses.
Suggested Food Pairings
Drizzle this sweet sauce over your favourite pizza, tacos, fried chicken, dumplings, pasta, bacon and eggs or for something different but insanely tasty, drizzle it over the top of your favourite cheese plate or ice cream and pancakes, the sweet-heat of Hellfire really compliments the creaminess of a nice vintage cheddar or ice cream.
Handcrafted in Australia from 100% natural ingredients.
Awards:
Silver Medal – Best of The Best – Mr Chilli Awards (Aus & NZ)