Habanero Roja – Melbourne Hot Sauce
£5.95
Heat Level: Hot
Produced by: Melbourne Hot Sauce – Melbourne, VIC
100% Australian made – Heat with flavour! This is MHS's most popular hotter variety of sauce and a great addition to any food that needs that extra kick.
Multi-Award Winning
Gluten & Dairy Free. Vegan Friendly
Size: 150ml
Out of stock
Description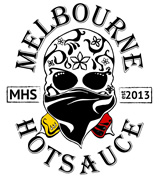 Heat Level: Hot
Heat with flavour! This is MHS's most popular hotter variety of sauce and a great addition to any food that needs that extra kick.
Especially good on eggs and in a Bloody Mary for breakfast.
Ingredients: Habanero, Ginger, Lemon Juice, Vinegar, Salt, Sugar.
Gluten & dairy free. Vegan friendly.
Hand crafted with all natural ingredients in Melbourne, Australia.
We only use high quality natural ingredients with no added preservatives, additives, fillers, extracts or thickeners.
150ml bottle.
Awards:
Gold Medal 2017 Australian Food Awards
1st place 2017 Australia & NZ Mr Chilli Awards
2nd place 2016 Australia & NZ Mr Chilli Awards