Grim – 13 Angry Scorpions
£8.95
Heat Level: Very Hot
Produced by: Brisbane, QLD
Aged Carolina Reaper – Louisiana Style Hot Sauce – Pure Evil
Multi-Award Winning
Handcrafted in Australia from 100% natural ingredients
Gluten Free & Vegan Friendly
Size: 150ml
2 in stock
Description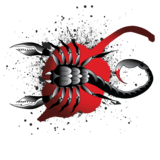 Heat Level: Very Hot
Handmade with Carolina Reaper Peppers that we age for 18 months, Grim carries the fruitiness and killer heat of the Reaper, a real depth of flavour from the molasses and a nice tang to finish. First you taste all the flavour, then the heat begins to creep in and slowly builds for a full two minutes before peaking.
Made with the hottest chilli in the world, Grim is a rare breed, extremely hot with an incredible flavour profile.
Ingredients: Aged Carolina Reaper Chillies, Vinegar, Molasses & Sugar.
Awards:
1st PLACE PEOPLES CHOICE AWARD – MR CHILLI AWARDS & MURPHY'S CREEK CHILLI FESTIVAL
3rd PLACE – BEST OF THE BEST EXTRA HOT WITH FLAVOUR – Mr CHILLI AWARDS – SYDNEY, AUSTRALIA