Green Jalapeño Sauce – Byron Bay Chilli Co. (Best Before 4 Nov 2022)
Heat Level: Medium
Produced by: Byron Bay Chilli Co. – NSW
Green Jalapeno Chilli Sauce with Coriander. Try mixing with sour cream or plain yogurt as a dipping sauce. Your kebabs will never be the same.
Gluten Free.
Size: 250ml
Description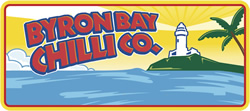 Heat Level: Medium
Green Jalapeño Chilli Sauce with Coriander. You tell me, is it Mexican, Morrocan, or Indian? Neither, and all three.  Good with anything. Once you try it you will agree. BBCC Green is rapturous with sushi, stirfry or sandwiches. Tacos, enchiladas & quesadillas. Yum!
The balanced, blended flavours of green chilli, coriander, mango, coconut, and cumin are nothing less than magic. Try mixing with sour cream or plain yogurt as a dipping sauce. Your kebabs will never be the same.
Ingredients: Water, Jalapeño Chillies (11%), Coriander (9%), Mango, Green Chillies, Coconut, Food Acid (260), Salt, Spices, Lime Juice, Vegetable Gum (415).
Gluten free.
250ml bottle.