El Presidente's Demise – Reaper Hot Sauce – The Chilli Effect
Heat Level: Very Hot
Produced by: The Chilli Effect – Sydney, NSW
The Chilli Effect's hottest sauce is crafted to satisfy serious chilli cravings.
Gluten Free & Vegan Friendly
Size: 150ml
Out of stock
Product Description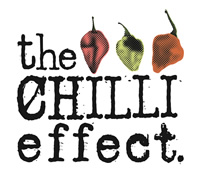 Heat Level: Very Hot
The Chilli Effect's hottest sauce is crafted to satisfy serious chilli cravings.
El Presidente's Demise is one of Australia's hottest chilli sauces packed with flavour.
So what's the flavour?
Tasty, smooth & fiercely hot! El Presidente's Demise delivers an all round mouth heat that often causes hiccups.
The style is perfect for eggs, pizzas, burgers, tacos, chilli con carne and anything else that you want to set fire to.
What's the Chilli? 6% Carolina Reaper, 13% Habanero, 2% Birds Eye and Chipotle powder.
Ingredients: Pineapple Juice, Lime Juice, Chilli (Habanero, Reaper & Birdseye), Tomato Puree, Chipotle, Chilli Powder, Salt, Spices, Xanthan (415), Citric Acid.
Served in a 150ml bottle.
GLUTEN FREE & VEGAN FRIENDLY