Echidna Prickle – Mild Chilli Honey Mustard Dressing – The Chilli Factory
Heat Level: Mild (1/10)
Produced by: The Chilli Factory – Morisset, NSW
Award Winning Honey & Mustard Dressing. 100% Australian made with Mustard, Honey & only 1% Cayenne Chilli. Use on any salad as a dressing. Great with chicken & smoked salmon or as a condiment or sauce with any meats.
Gluten Free
Size: 240ml
Out of stock
Product Description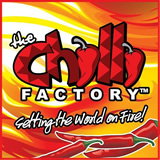 Heat Level: Mild (1/10)
Ingredients: Canola Oil, Water, Honey (14%), Vinegar, Mustard Seeds (5%), Salt, Cayenne Chilli (1%), Sugar, Food Acid, Herbs & Spices, Xanthan Gum.
Recommended Usage
Use on any salad as a dressing
Great with chicken
or as a condiment/sauce with any meat
Delicious on any seafood, salmon, tuna or with prawns
Taste the fresh honey and mustard in this product!!
Awards won by Echidna Prickle
3rd Prize Bronze Award: Sydney Royal Fine Food Show – September 2007