Chipotle BBQ – Melbourne Hot Sauce (Best Before 24 Nov 2021)
£5.95
Heat Level: Mild
Produced by: Melbourne Hot Sauce – Melbourne, VIC
Classic St Louis style BBQ sauce with a slight hit of smoky chipotle.
Multi-Award Winning
Gluten & Dairy Free
Size: 150ml
Out of stock
Description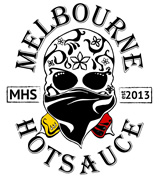 Heat Level: Mild
Classic St Louis style BBQ sauce with a slight hit of smoky chipotle.
Perfect as a baste, marinade or mop for all your favourite barbecue meats, like pork ribs, brisket, chicken wings & beef ribs.
Can be used as a tomato sauce substitute smothered over fries, burgers, sandwiches, vegetables & anything that needs some extra smokey BBQ goodness.
Warning this sauce is very addictive!!
Ingredients: Tomato, Molasses, Chipotle, Worcestershire, Honey, Cider Vinegar, Garlic, Mustard, Paprika, Salt.
Gluten & Dairy free. Not suitable for Vegans (contains honey). We use Vegan friendly & gluten free Worcestershire.
Hand crafted small batch hot sauce made with all natural ingredients in Melbourne, Australia
We only use high quality natural ingredients with no added preservatives, additives, fillers, extracts, or thickeners.
150ml bottle.
Awards:
2nd place 2016 World Hot Sauce Awards
3rd place 2017 International Scovie Awards
Gold Medal 2017 Australian Food Awards
Gold Medal 2016 Australian Food Awards
1st place 2017 Australia & NZ Mr Chilli Awards
1st place 2016 Australia & NZ Mr Chilli Awards
1st place 2015 Australia & NZ Mr Chilli Awards