Bunsters – BLACK LABEL – 16/10 Heat
Heat Level: Extreme (16/10)
Produced by: Bunsters – Perth, WA
At last! The internet's most famous hot sauce is now available in the UK!
Gluten Free & GMO Free
Size: 236ml
FREE UK DELIVERY when you spend £50 or more on Bunsters!
Description

Heat Level: Extreme (16/10)
WARNING – Before buying this sauce please read our Hot Sauce Disclaimer
Bunsters took the world's finest hot sauce and doubled the heat! Black Label is twice as hot as Shit the Bed, but still has that great superfood flavour. Treat yourself, or give someone special the gift that keeps on giving. Nothing says "I care about you" more than a bottle of Bunsters Black Label.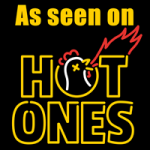 Bunsters Black Label is the only ultra hot sauce with flavour. Loaded with Scorpion chillies (the #3 hottest chilli in the world), orange juice, garlic, onions, lime, ginger, goji berries and herbs this is the one hot sauce hard core chilli heads will keep coming back to. Bunsters don't use chilli extracts in their sauces so there's no funny after taste, just whole chilli goodness. Finally something hot enough to shut up the person who is never satisfied.
Once you go black, you never go back.
Bunsters Black Label currently features as the number 7 sauce on Season 6 of Hot Ones – the celebrity Hot Wings talk show. Check it out at youtube.com/FirstWeFeast
Ingredients: Orange Juice, Vegetables [Chillies (Scorpion and Birds Eye), Brown Onions, Garlic], Apple Cider Vinegar, Coconut Sugar, Cilantro (Coriander), Lime Juice, Goji Berries, Ginger, Himalayan Pink Salt, Potato Starch.