Bunny Chow – Spreadable Hot Sauce – The Chilli Effect
Heat Level: Medium
Produced by: The Chilli Effect – Sydney, NSW
Made in Australia using Habanero, Cayenne & Bird's Eye Chillies – Think "Butter Chicken" in a jar…but without the chicken or even the butter and you've got Bunny Chow!
Gluten Free, Nut & Allergen Free
Size: 270g
1 in stock
Product Description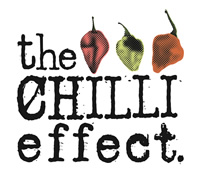 Heat Level: Medium
Think "Butter Chicken" in a jar…but without the chicken or even the butter and you've got Bunny Chow!
The Chilli Effect's deliciously spicy Bunny Chow takes its name from Durban's favourite fast food – Indian curry served in a loaf of bread.
Bunny Chow's smooth and creamy texture makes it the perfect spreadable hot sauce, dip and curry paste. Packed with chillies, Bunny Chow is a curry addicts best friend.
Slather Bunny Chow all over burgers, chicken, sandwiches or simply add to any meal to satisfy your curry cravings. Try as a dip for jerky.
WARNING: This sauce is crafted to induce chilli addictions!
What's the Chilli? Habanero, Cayenne & Bird's Eye – Bunny Chow delivers a decent burn!
Ingredients: Chilli, Water, Carrot, Lime Juice, Honey, Olive Oil, Onion, Sea Salt, Garlic, Cumin, Turmeric, Arrowroot, Paprika, Caraway, Coriander, Fenugreek, Curcumin.
Served in a 270g Jar
GLUTEN FREE, NUT & ALLERGEN FREE