What do Charlize Theron, Ricky Gervais, Cara Delevingne and "Perth mum" Renae Bunster have in common? The cult YouTube talk show Hot Ones!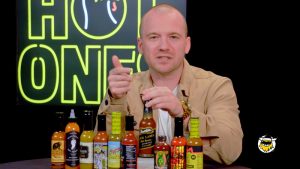 If you didn't already know, the show is hosted by Sean Evans and attracts around 30 million views a month on YouTube.
Filmed weekly in New York and published via the First We Feast YouTube Channel it's the show with hot questions & even hotter wings. On announcing the lineup of sauces for Season 6 of Hot Ones, Sean Evans said "Our first ever hot sauce straight out of Australia – We very much welcome Bunsters from Down Under to the Terror Dome."
Renae Bunster explains Hot Ones – "They get a celebrity – could be an A-list Hollywood celebrity, a basketball player or a rapper – and they make them eat 10 chicken wings that progressively get hotter and my sauce has been chosen to be the number 7 hottest sauce which is pretty hot. I'm going to make some celebrities hurt!"
"The sauce that's going to be on the show is my regular Black Label 16/10 sauce, but train spotters will notice that some words have been removed from the label which is the infamous "S" The Bed."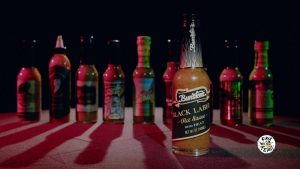 "Not because they thought it was too vulgar – they actually thought it was hilarious. They knew that every week the celebrities would be distracted by seeing this hot sauce that said "S" The Bed on it – they'd get the same reaction every week so they asked me to take it off and I obliged – I'm not going to do it for *Coles or *Woolworths but I'll do it for the Hot Ones!"
"It was pretty amazing getting a phone call out of the blue from these guys in New York to say "We need 10,000 bottles of sauce and we need them in 2 weeks!" and I'm like "I think I can get the label printed next week…"
"I don't know which celebrities are going to get to eat my sauce yet – I can't wait to see!"
This is great news for Bunsters and for Aussie Hot Sauces fans too.
Season 6 of Hot Ones premieres on 7th June.
*FYI in case you're not aware, Coles & Woolworths (also known as "Woolies") are the 2 biggest supermarkets in Australia.
Once You Go Black, You Never Go Back!
What are you waiting for?
Buy Some Sauce!